This post brought to you by No nonsense. All opinions are 100% mine.
For those of you who have been following me from the beginning of my blog journey know that I'm a Mom who inspires to seek the look for less. I'm all about hot new trends and am risque enough to try it out (appropriate for the occasion, of course). If there is one thing I won't sacrifice, it's comfort. Comfort makes me confident and I want to be able to walk into a room without feeling self-conscious about how I'm walking or acting because I'm uncomfortable. The new No nonsense. The new No nonsense tights and leggings make it easy to add a pop of color to every outfit. No nonsense is ensuring that all women can experience "style made easy". No nonsense is modern, stylish, relevant and YOU!!! Finding stylish tights and leggings has never been easier with No nonsense products being sold in food & drug as well as mass retail stores. Get your look for less! No nonsense enables women to update and change out any look with simply adding some stylish, colorful and affordable leg-wear. Like lipstick, tights can be a great statement piece to lift your mood and extend your wardrobe. You can play tights or leggings up or down based on the occasion! It adds a nice *umph* to those bland fashion foes you may be experiencing!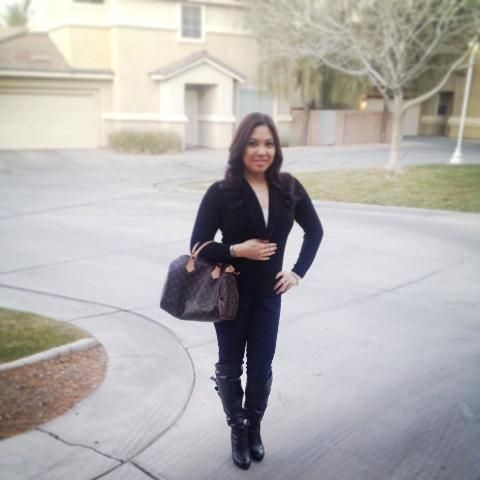 Here's an outfit I created using the new No nonsense denim leggings! They are SO comfortable and fit perfect under my thigh high boots! I love the dark denim color – it looks so authentic that friends were baffled when I told them I was wearing leggings to church! I have a little confession – they were SO comfortable, that I wore them to bed! I didn't want to take them off! I also received a pair of super cute plum colored tights that would go great with a dark grey dress!
No nonsense announced in a recent press release about their partnership with Jill Martin! For those of you who don't know who Jill Martin is – she is a stylish yet practical fashion expert, has her finger on the pulse of the latest trends, and is seen by millions of women as someone to turn to in the event of a fashion crisis. Her goal is to educate women on how to wear the brand's new colorful and high-impact tights and leggings through several exciting initiatives (including giveaways) so be sure to 'Like' No nonsense on Facebook and 'Follow' them on Twitter for updates to their giveaways!