This post brought to you by Carole P. Roman. All opinions are 100% mine.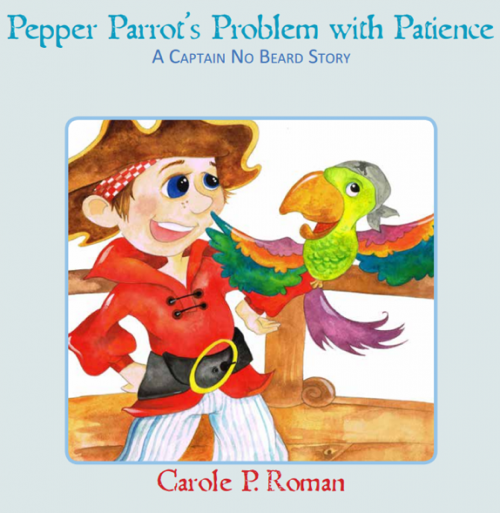 Captain No Beard and the animal crew of the Flying Dragon pirate ship are excited to welcome another crew member – Pepper Parrot. The story describes Pepper Parrot's frustrations while attempting the drills with the others. Not knowing her right from her left, she feels anxious and has a temper tantrum when she cannot keep up with the crew. The frustrations cause uncomfortable situations with other ship mates and illustrates the different types of emotions individuals deal with and how it affects others around them. It's a great story of friendship, patience, and team work. The book even describes ways to learn new tricks and shortcuts to better improve themselves and their way of learning. Afte reading the overview, I really enjoyed how the book shows the outcome of one's struggles – from self-esteem rising and Pepper Parrot becoming more confident in her abilities. It proves that a brighter future with others can come with failures and with hard work, lead to successes. Pepper Parrot's newly found self-respect brings an important message to her, her crewmates, and each of our children as we face challenges. My children would connect well with Pepper Parrot's struggles and overcoming them. They endure these types of challenges everyday in life whether at home, at school, or when doing their homework and extracurricular activities.
This book would be great for the little one in your life and is one of the first volumes of the series, Captain No Beard. There are so many lessons and wisdom bites found in this book that offers your children the understanding of life within a basic level of understanding. Your children will see a clearer picture and know that everything will be okay because these are the types of things people deal with on a daily basis. You may find more information on it Captain No Beard's books here: Pepper Parrot's Problem with Patience: A Captain No Beard Story
About the Author
Carole P. Roman is a former teacher turned businesswoman. She has successfully run a family business with her husband. Her most favorite job is being grandmother to her many grandchildren. Roman has two wonderful sons and hit the jackpot in the daughter-in-law department. She currently lives on Long Island with her husband.
Her first series, Captain No Beard has been lauded by the Kirkus Review and read by children around the world. Her next project is the book series I Want To Do Yoga, Too. She is currently working on a new educational series that explores different cultures from a child's point of view.