This post brought to you by Comfort and Harmony. All opinions are 100% mine.
WINNER ANNOUNCED: Congratulations Hazel B!  Hazel has confirmed her prize and will receive the Mombo!
The new Firm2Soft designed infant nursing pillow by Mombo is one of the greatest things ever created for nursing infants and their mothers. In this stage of the babies development, their needs are very specific. The type of comfort they look for at different times of the day isn't always the same. It depends what activity they are in, whether it's feeding time, tummy time, or lounge time. This is why mothers love the Mombo nursing pillows. In the design of this product, all of the different needs of the mother and infant were taken into consideration.
The Comfort & Harmony Mombo Firm2Soft Pillow we sampled, or watched our friends sample, was awesome! So it's 2-sided, with each side having its own purpose. One side is the firm side, which was used for feeding time. It gave the infant and mother the support they needed to have a comfortable and safe positioning during nursing. It made the process a lot easier and faster, because the baby and mom were at ease. The other side of the pillow was made softer, great for tummy time and resting. Because it's softer, babies get a distinct experience from each side, so it almost sets the mood for them to just relax, whether on their backs or on their tummies – they know their work is done! One of our favorite features of the Comfort & Harmony mombo nursing pillow is the vibration feature, and I think the baby would agree. It gave him that soothing experience, almost equal to rocking him (judging from the look on his face), so that was definitely a bonus for this product.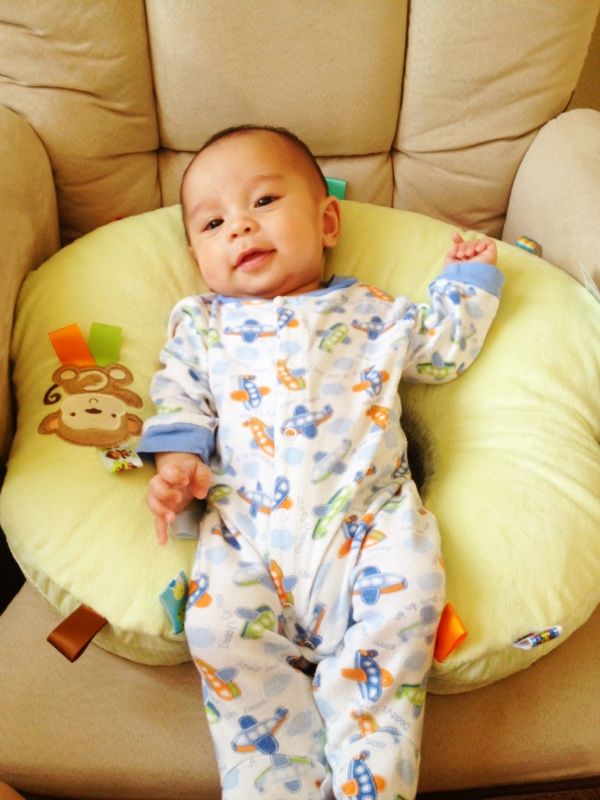 This is a quality nursing pillow for infants and I wish it would of been around a long time ago for me to use on all my children. It's easy to use, makes feeding time with the baby easier and its an attractive looking product. They have a cute selection of slip covers that you can change around, something for the mother to enjoy! It's a MUST have item for mothers with currently nursing infants. This is an item that will surely help make the job easier for both mom and baby.  Mombo products are avaiable at Toys R Us, so go and them check out to see which is best for you and you baby.
Guess what? We are now doing a Mombo Deluxe Nurser giveway to one of our lucky readers! Leave a comment on this post, on Facebook, on Twitter, or on Instagram, and  tell us why you want a Mombo (for a friend, family member or maybe yourself?).
Also, don't forget to "Like" Comfort & Harmony on Facebook, AND "follow" Comfort & Harmony on Twitter.